Summer handicap dates 2021
With the season curtailed by COVID restrictions there are just three handicap races in 2021.
Wednesday 18 August
Wednesday 1 September8
Wednesday 1 September
Note: All races will start at 7pm
About the handicap series
Normally this a series of 6 races per season over a designated 5 Kilometre course. Due to the COVID pandemic there are just 3 races this year.
The Summer Handicapper calculates handicaps and publishes results separately for men and for women. Basic points are awarded in each race according to finishing position, eg 200 points to the first man, 199 points for the second and so on. Similarly the first woman is awarded 200 points, the second 199 points and so on.

All paid up members are eligible to compete, score points and win awards. We are not inviting guest runners to this years races.
How do I get a handicap time?
If you competed in a Club handicap race last season the handicapper will have worked out a handicap time for you. If you are new to the series then you will be invited to suggest a realistic time for the course, and a suitable start time will be allocated.
Where do we meet?
Park at the Jag Club in Browns Lane, allowing time to jog to the start which is the roundabout at the junction of Coundon Wedge Drive and Sayer Drive (entrance to Lyons Park).
Make sure you get to the start in time for your start time, and listen out for the starter to call your name.
A list of start times will be available at the start. If you miss your start time then you'll end up with a disadvantageous result.
What about the route?
The route starts at the roundabout on Coundon Wedge Drive, continues down Coundon Wedge Drive, turns left into Wall Hill Road, continues along Hawkes Mill Lane, turns left into Browns Lane, continues along Browns Lane, turns left into Butt Lane, crosses through the bollards mid way along Butt Lane, proceeds along Butt Lane, turns left into Staircase Lane, follows Staircase Lane and turns left when it reaches Coundon Wedge Drive, continues along Coundon Wedge Drive to the finish at the roundabout where it started. For your own safety remain on the pavement all the way along the route unless you need to give way to pedestrians.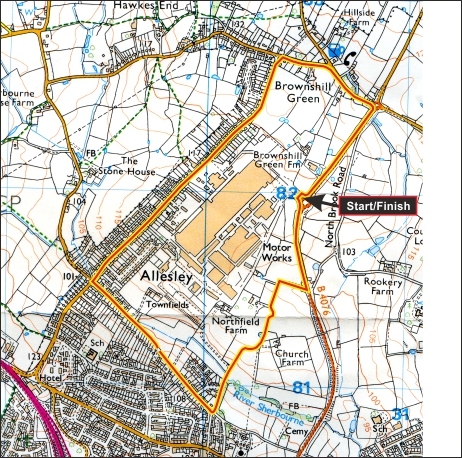 What happens at the finish?
There is a finishing funnel where you will be given a numbered disc indication your finishing position. Stay in your finishing order and make sure you receive a disc. If you don't have a disc we can't record your finishing position. When requested, give your disc and your name to the recording marshals. The handicapper will calculate the results, which will be posted on the club website a week or so later.
Are there any prizes?
There is a £5 prize voucher for the first male and for the first female in each race, and a prize for the male and female series winners. Prizes are presented at the annual Awards Evening.
Series results
The 2020 series did not take place due to COVID-19 restrictions
Results for 2019 series
Results for 2018 series
Results for 2017 series
Results for 2016 series
Selecting any of the links below will take you to our results archive site
Results for 2015 series
Results for 2014 series
Results for 2013 series
Results for 2012 series
Results for 2011 series
Results for 2010 series
Results for 2009 series