Forthcoming events
Forthcoming events
Tap/click an item for more info
Mar 23
Midland Men's 12-stage and Women's 6-stage road relays – Sutton Park

If you arrived here because you are thinking about joining a running club then you have come to the right place.
Why not come along to our Wednesday night training sessions and try out our friendly welcoming Club.

Take out membership and enjoy the experience of Club running. Not sure if you want to join up - then try before you buy. Run with us as a guest for a few weeks before signing.
See the How to Join Page for more info.
---
News Roundup

The Windmill Village Hotel was the venue for the annual awards presentation on Saturday 16 February, attended by 120 members and guests.
Club Chairman Bob Adams remarked that it was particularly special evening as it was also a celebration of the club's 40th birthday since its foundation as Northbrook Striders in 1978. He also welcomed several former members, including founder member Bob Hewitt.


There was universally enthusiastic applause for the winners of the voted awards, Spencer Davies (Club Person of the Year) and Martin McHugh (Most Improved Runner).
---
Entries are now open for the 2019 Northbrook 10k road race which takes place on Sunday 14 July. Now in its 16th year the race will again be accompanied by a children's run and our major charity beneficiary is Coventry Cyrenians. The 10k race starts at 9.40am.
Sponsors include Bruker, Coventry Runner, Deeley Construction JPL Heating and Plumbing and Curtain Call.
For details of the race vist our Northbrook 10k website.
---
The final races of the 2018/19 Birmingham Invitation Cross-Country League and Midland Women's League took place on 2 February, both teams running at Gloucester.
In the men's race Northbrook's somewhat depleted A Team finished 7th on the day, the men's B team finishing 5th.
After a promising start in the first two races, the team's strength was diminished by absences for various reasons in races 3 and 4, resulting in a disappointing overall 6th place at the series end. The men's B team ended the season 4th overall.
At the National Cross-Country Championships at Harewood House on 23 February Northbrook fielded male and female teams, plus an enthusiastic and vocal support crew. On a tough, undulating 8km course Northbrook women finished 110th out of 274 teams. On a longer but equally tough 12km course Northbrook men finished 102nd out 360 teams. In the first 9 to score placings Northbrook men finished 65th.

Baker's Dozen in the League Landmark List
Having completed 108 races, with 2, 3 or 4 races completed in every season since 1987/88, Mark Baker has made it to the Birmingham Cross-Country League's Landmark List and is currently in 13th place. His best performance was in Division 3 at Leamington Spa in 2012 where he finished 22nd overall and 2nd 'A' team counter.
---

The Warwickshire Road Race League is a series of short and middle-distance road races running from Spring through to Autumn. The 2018 series featured 10 races starting with the Massey-Ferguson Tractor 10k in April and finishing with the Rugby 10 mile in October.
At the series close Natasha White was 2nd overall in the women's competition, and won the Senior Female category. The other highest placed Northbrook competitors were Allison Smith (7th FV45), Julie Cozens (5th FV55), Terry Moynihan (4th MV45), Tom Miller (9th MV55) and Tony French (4th MV65). In the team results Northbrook men were placed 7th, and Northbrook women were 5th. In the masters team standings Northbrook men were 5th and Northbrook women were 5th.
Northbrook results
Visit the WRRL web page
WRRL fixtures list 2019
---

It's that time of year again when membership renewal falls due. Continue your enjoyment of being a member of the Northbrook running community by renewing your club membership now. You'll get the benefits of UKA affiliation, structured training sessions led by qualified leaders, reduced entry fees to races, Northbrook-sponsored team entries, and so on.
We've now made it even easier to renew – you can do it online. Go to the Membership Renewal page, fill in your details and select Submit. Follow the payment instructions we send you and Bob's your uncle.
Renewal fees have been frozen at the 2018 rates, and this year there is a one-time reduction of £2 on all renewal fees.
Fees must be paid by 31 March to ensure continuation of your licence to enter races as an Affiliated Athlete (ie to enter races as a club runner).
---

Only a few weeks into the year and the tables are already starting to fill up.
In the Men's table Rich Cawley has taken an early lead by accumulating points for four of the required distances.
In the women's table only three race distances have been recorded and Natasha White has made a good start to her season by getting maximum points from her three races.
The Road Race Champs tables are compiled from Summer Handicap results, and from results of qualifying races sent in to the web site.
View the tables at Northbrook Road Race Champs 2019
---

A new posse of runners started the New Year on the right foot by signing up to our 5k improvement programme. Hugely successful last year, this 10-week programme will help improve their 5k performance to get more out of their running.
The programme started on 21 January with sessions held twice weekly on Mondays and Wednesdays. Those who complete the programme will be invited to enter our
Summer Handicap
series starting on 3 April where they will be able to put their new-found running ability into practice.
---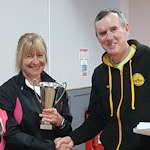 The 2018/19 Northbrook parkrun cup competition kicked off with the first round draw on 8 September, progressing through the knockout stages and culminating in a thrilling final on 12 January with Tracey Williams (29:20) competing against Martin Gavin (26:20) to win the tournament by 2 seconds.
Unable to receive her award at the Club Awards evening, Club Chairman Bob Adams presented Tracey with the cup before the training session on 26 February.
This is a popular Club competition introducing a sense of fun and friendly rivalry to the Coventry parkrun event.
---

The Club draw for its allocation of two guaranteed entries to the 2019 Virgin London Marathon took place at the Jaguar Sports & Social Club on 21 November and the winners were Ian Paterson and Kevin Coughlan. The reserve is Linda Richards.
There were 17 in the draw and unlucky were Rory Anderson, Spencer Davies, Damien Dear, Richard Hands, Tony Hughes, Joe Kelly, Liam Mills, Louise Myers, Mark Parker, Christopher Perkins, Adrian Powell, Jonathan Seed, Craig Slyde and Allison Smith.
Notice Board
Recent Race Results
Follow the exploits and successes of Club members by checking out these recent
Northbrook
race results
Runners of the Month
January
Elle Townsend - three cross-country races in January
Andy McConville - three cross-country races in January
Previous Runners of the Month
Distance Training
Distance training sessions geared towards the Coventry Half-Marathon leave the Jaguar Sports & Social Club on Sunday mornings at 9am. You can check out our distance routes for ideas about training on your own.
Club Kit
A range of Club branded running apparel available to members at attractive prices.
Visit the Northbrook Kit Shop to see what's on offer.
Committee Meetings
The committee meets every month to discuss Club matters that affect you.
Read the minutes of the committee meeting on 18 February

The Club Calendar has dates and venues for a selection of some favourite running events in and around the Midlands.
Training
---
Wednesdays at 7.30pm
Mondays at 6pm
Results
---
Latest results
from Northbrook
News Archive
---
Think you may have missed something?
Read about it here.
Archive Search
---
Can't find what you are looking for?
Try searching the archives.