Forthcoming events
Forthcoming events
Tap/click an item for more info
Jan 23
Northbrook AC Annual General Meeting
Feb 9
Birmingham League/Midlands Women's League – Race 4

If you arrived here because you are thinking about joining a running club then you have come to the right place.
Why not come along to our Wednesday night training sessions and try out our friendly welcoming Club.

Take out membership and enjoy the experience of Club running. Not sure if you want to join up - then try before you buy. Run with us as a guest for a few weeks before signing.
See the Membership Page for more info.
---
News Roundup

The Club's Annual General Meeting will take place on Wednesday 23 January 2019 at the Jaguar Sports & Social Club. The meeting will start at 8.30pm after the normal training session.
The Club committee is elected by the membership each year at the AGM. Details of committee and non-committee posts, how to vote, the meeting agenda, and the proposals for consideration at the meeting are in the formal Meeting Notice.
---
Northbrook 40th Anniversary
and Annual Awards Night
Saturday 16 February
Windmill Village Hotel, Coventry
Come and join us as we celebrate the successes of our members over the past year and the 40th anniversary of our club. Cost is £25 per person and includes three-course buffet. Music by Re:offenders. Members and partners/guests are welcome. Start time is 7pm for 7.30pm. Smart dress please.
This will be a popular event so book your places now using the online Awards Night Booking form.
In celebrating our 40 years of running we are extending a welcome also to ex-members of Northbrook AC, so any ex-members who are interested in attending are asked to get in touch with us.
We are also on the lookout for any old club photos, press cuttings or memorabilia that we can borrow for Bob's illustrated highlights of the club's history. Please get in touch with us using the website Contact page if you can help.
---
Race 3 of the 2018/19 Birmingham Invitation Cross-Country League and Midland Women's League took place on 12 January, both teams running at Droitwich.
In the men's race Northbrook's A Team finished 8th on the day, and are placed 6th overall after 3 races. The men's B team were 4th on the day and are also 4th overall. The final race is at Gloucester on 9 February where the men will have a lot of work to do to get into the promotion zone.
In the women's race Northbrook Senior Women's team finished 12th, the Women's Masters team finishing 7th.
Check out the remaining cross-country races and venues posted on the cross-country page.

Baker's Dozen in the League Landmark List
Having completed 108 races, with 2, 3 or 4 races completed in every season since 1987/88, Mark Baker has made it to the Birmingham Cross-Country League's Landmark List and is currently in 13th place. His best performance was in Division 3 at Leamington Spa in 2012 where he finished 22nd overall and 2nd 'A' team counter.
---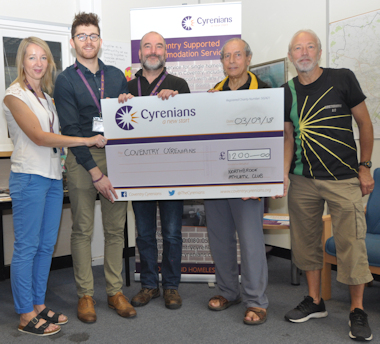 Northbrook AC teamed up with Coventry Cyrenians as the major charity beneficiary of the 2018 Northbrook 10k race which took place on 8 July. At a presentation on 3 September, Club President Tony French presented a cheque for £1200 to Coventry Cyrenians' fund raising officer Jack Swinburn to support their work with the homeless.
On one of the hottest days of the year Chris Sharp from Knowle & Dorridge RC won the 2018 10k race in 33:50, with Scott Hazel (Massey Ferguson RC) 2nd and Ben Taylor (Kenilworth RC) in 3rd.
Kelly Edwards (Leamington C & AC) took the 1st women's prize in 38:44.
Leamington C & AC took both the men's and women's Club team prizes.
In the Junior Run, Adam Taylor won the event in 6:26, the first girl was Ellen Taylor who finished 2nd in 6:43.
Bruker, Deeley Construction, JLN Plumbing and Heating, ACTfitness Sports Massage, Curtain Call and Tony's Home Improvements were our featured sponsors.
For the full results visit our 10k website
The date of our 2019 Northbrook 10k race is Sunday 14 July 2019
---

It's time for the annual members' poll to vote for the 2018 Most Improved Runner and Club Person of the year award winners, to be presented at the Awards Night on 16 February. Voting is open now and closes on 10 February so check out how to vote on the Voted Awards page.
---

Start the New Year on the right foot by signing up to our 5k improvement programme. Hugely successful last year, this 10-week programme will help you improve your 5k performance to get more out of your running.
Programme starts on 21 January with sessions held twice weekly on Mondays and Wednesdays. Subject to numbers and minimum age restriction.
Register your interest.
Download the flyer
---

The Club draw for its allocation of two guaranteed entries to the 2019 Virgin London Marathon took place at the Jaguar Sports & Social Club on 21 November and the winners were Ian Paterson and Kevin Coughlan. The reserve is Linda Richards.
There were 17 in the draw and unlucky were Rory Anderson, Spencer Davies, Damien Dear, Richard Hands, Tony Hughes, Joe Kelly, Liam Mills, Louise Myers, Mark Parker, Christopher Perkins, Adrian Powell, Jonathan Seed, Craig Slyde and Allison Smith.
---

The 2018/19 Northbrook parkrun cup competition kicked off with the first round draw on 8 September. The draw comprised 28 ties, 4 lucky people getting first round byes. The competition progressed through the knockout stages, culminating in a thrilling final on 12 January with Tracey Williams (29:20) competing against Martin Gavin (26:20) and winning the tournament by 2 seconds. The cup will be awarded at the Club's Annual Awards Night on 16 February.
This is a popular Club competition introducing a sense of fun and friendly rivalry to the Coventry parkrun event.
---

Northbrook AC celebrated 40 years of running in 2018, and as part of our ruby anniversary celebrations we staged a special one-off event on Wednesday 15 August. Twenty three teams of 3 runners from various training groups ran as many laps as possible of the Allesley Park 1000m loop in 40 minutes in repetitive relay order.
The team with the most laps completed in the shortest time over 40 minutes was declared the winner.  Winners were Tom McNamara, Louise Slater and Raghbir Sangha and each received a prize of a bottle of wine. There were prizes too for the second and third teams.
---

The last couple of weeks of the year some last minute desperate attempts to get a few more points on the Road Race Championships table, but the competition is now and done and dusted and the results are finalised.
In the Men's table Stuart Lumsden claims first place, 3 points ahead of second-placed Steve Turvey who heads MV35 category. A further 4 points behind sees Liam Mills tying with Damien Dear for third place, also tying for the MSEN category title.
Terry Moynihan and Tom Miller lead the MV45 and MV55 categories, and Mike Duggan has a clear lead at the top of the MV65 category.
By winning maximum points in her best 5 distances Natasha White's perfect score leaves her with a 3-point lead at the top of the women's table with Amanda Deavy in second place and Cath Fenn in third. Amanda Deavy, Cath Fenn, Sarah McNaney and Ros Myers lead the other women's categories.
The Road Race Champs tables are compiled from Summer Handicap results, and from results of qualifying races sent in to the web site.
View the tables at Northbrook Road Race Champs 2018
---

The Warwickshire Road Race League is a series of short and middle-distance road races running from Spring through to Autumn. The 2018 series featured 10 races starting with the Massey-Ferguson Tractor 10k in April and finishing with the Rugby 10 mile in October.
At the series close Natasha White was 2nd overall in the women's competition, and won the Senior Female category. The other highest placed Northbrook competitors were Allison Smith (7th FV45), Julie Cozens (5th FV55), Terry Moynihan (4th MV45), Tom Miller (9th MV55) and Tony French (4th MV65). In the team results Northbrook men were placed 7th, and Northbrook women were 5th. In the masters team standings Northbrook men were 5th and Northbrook women were 5th.
Northbrook results
Visit the WRRL web page
WRRL fixtures list 2019
Notice Board
Recent Race Results
Follow the exploits and successes of Club members by checking out these recent
Northbrook
race results
Runners of the Month
November
   Sarah McNaney - 10-mile PB and consistent club support
   Damian Pharoah - PB and excellent job as Kit Manager
Previous Runners of the Month
Distance Training
Although organised Sunday morning distance sessions are on hold at present you can check out our distance routes for ideas about training on your own.
Club Kit
A range of Club branded running apparel available to members at attractive prices.
Visit the Northbrook Kit Shop to see what's on offer.
Committee Meetings
The committee meets every month to discuss Club matters that affect you.
Read the minutes of the committee meeting on 17 December

The Club Calendar has dates and venues for a selection of some favourite running events in and around the Midlands.
Training
---
Wednesdays at 7.30pm
Mondays at 6pm
Results
---
Latest results
from Northbrook
News Archive
---
Think you may have missed something?
Read about it here.
Archive Search
---
Can't find what you are looking for?
Try searching the archives.