Forthcoming events
Forthcoming events
Tap/click an item for more info
Jan 12
Birmingham League/Midlands Women's League – Race 3
Jan 23
Northbrook AC Annual General Meeting
Feb 9
Birmingham League/Midlands Women's League – Race 4

If you arrived here because you are thinking about joining a running club then you have come to the right place.
Why not come along to our Wednesday night training sessions and try out our friendly welcoming Club.

Take out membership and enjoy the experience of Club running. Not sure if you want to join up - then try before you buy. Run with us as a guest for a few weeks before signing.
See the Membership Page for more info.
---
News Roundup
Sunday 23 December
Come and join Tony in his twelfth annual Christmas Cracker run. It's not a race, it's a social run for all abilities.
No registration required - turn up and run, but please let Tony know you are running so there will be enough mince pies and drinks.
Starts from Tile Hill station car park. Choose your distance - 8 miles (starts at 10.15am) or 12 miles (starts at 9.50am).
No prizes, but delicious mince pies are the traditional finishing reward.
There is no charge for taking part, but please bring some spare change with you to donate to Muscular Dystrophy.
More details on Christmas Cracker web site
---

The Club draw for its allocation of two guaranteed entries to the 2019 Virgin London Marathon took place at the Jaguar Sports & Social Club on 21 November and the winners were Ian Paterson and Kevin Coughlan. The reserve is Linda Richards.
There were 17 in the draw and unlucky were Rory Anderson, Spencer Davies, Damien Dear, Richard Hands, Tony Hughes, Joe Kelly, Liam Mills, Louise Myers, Mark Parker, Christopher Perkins, Adrian Powell, Jonathan Seed, Craig Slyde and Allison Smith.
---
Race 2 of the 2018/19 Birmingham Invitation Cross-Country League and Midland Women's League took place on 1 December, the men running at Plock Court, Gloucester, the women at Stratford.
In the men's race Northbrook's A Team finished 6th on the day, and are placed 5th overall after 2 races. The men's B team were 4th on the day and were also 4th overall.
Check out the remaining races and venues posted on the cross-country page.

Baker's Dozen in the League Landmark List
Having completed 108 races, with 2, 3 or 4 races completed in every season since 1987/88, Mark Baker has made it to the Birmingham Cross-Country League's Landmark List and is currently in 13th place. His best performance was in Division 3 at Leamington Spa in 2012 where he finished 22nd overall and 2nd 'A' team counter.
---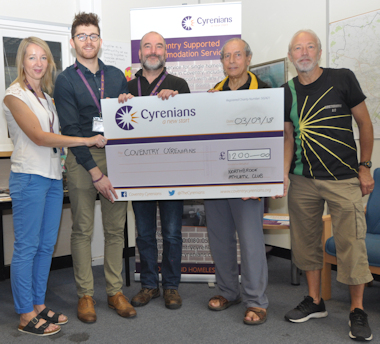 Northbrook AC teamed up with Coventry Cyrenians as the major charity beneficiary of the 2018 Northbrook 10k race which took place on 8 July. At a presentation on 3 September, Club President Tony French presented a cheque for £1200 to Coventry Cyrenians' fund raising officer Jack Swinburn to support their work with the homeless.
On one of the hottest days of the year Chris Sharp from Knowle & Dorridge RC won the 2018 10k race in 33:50, with Scott Hazel (Massey Ferguson RC) 2nd and Ben Taylor (Kenilworth RC) in 3rd.
Kelly Edwards (Leamington C & AC) took the 1st women's prize in 38:44.
Leamington C & AC took both the men's and women's Club team prizes.
In the Junior Run, Adam Taylor won the event in 6:26, the first girl was Ellen Taylor who finished 2nd in 6:43.
Bruker, Deeley Construction, JLN Plumbing and Heating, ACTfitness Sports Massage, Curtain Call and Tony's Home Improvements were our featured sponsors.
For the full results visit our 10k website
The date of our 2019 Northbrook 10k race is Sunday 14 July 2019
---

The 2018/19 Northbrook parkrun cup competition kicked off with the first round draw on 8 September. The draw comprised 28 ties, 4 lucky people getting first round byes. The sixteen ties in the second round were to be completed at Coventry parkrun by 20 October. Now into the quarter finals, the competition will be drawn to a close by the end of January.
This is a popular Club competition introducing a sense of fun and friendly rivalry to the Coventry parkrun event.
---

Start the New Year on the right foot by signing up to our 5k improvement programme. Hugely successful last year, this 10-week programme will help you improve your 5k performance to get more out of your running.
Programme starts on 21 January with sessions held twice weekly on Mondays and Wednesdays. Subject to numbers and minimum age restriction.
Register your interest.
Download the flyer
---

The Club's annual GBU relay race held on 27 June attracted a record number of members and guests, meaning there were 31 teams of 3 people competing over the 3-mile undulating course. The winning team of Cath Fenn, Amanda Deavy and Katy Davies took home three bottles wine.
Full results are on the Latest Results page.
---

The lack of rainfall over the previous few weeks hadn't halted the growth of the nettles, brambles and other foot-grabbing undergrowth lining the route of the annual Race the Train event on Wednesday 18 July, and sixty members and guests took part in the 6 and a bit mile mainly off-road run from Hampton-in-Arden to Tile Hill.
The first mile or so was easy running but after crossing the A452 the route started to get interesting, with a couple of stubble fields, a stile, a root-strewn path the through the wood, more stubble and then the bouncy boardwalk along to the the church in Berkswell.
The second section from Berkswell to Tile Hill was an altogether trickier affair, where the overgrown, concrete-hard, ankle-turning paths, combined with an abundance of juicy nettles, appeared to present something of a challenge those not very used to off-road running.
After starting the race Bob had to dash to catch the train back to Tile Hill ready to welcome the runners home and record the results, although the times are probably pretty meaningless to most.
---

Northbrook AC celebrates 40 years of running in 2018, and as part of our ruby anniversary celebrations we staged a special one-off event on Wednesday 15 August. Twenty three teams of 3 runners from various training groups ran as many laps as possible of the Allesley Park 1000m loop in 40 minutes in repetitive relay order.
The team with the most laps completed in the shortest time over 40 minutes was declared the winner.  Winners were Tom McNamara, Louise Slater and Raghbir Sangha and each received a prize of a bottle of wine. There were prizes too for the second and third teams.
---

With just five weeks left of the Road Race Championships year some late attempts at squeezing out a few more points have broken the previously tied positions in the men's table with Stuart Lumsden edging into first place, 3 points ahead of Steve Turvey's pole position in the MV35 category. A further 4 points behind sees Liam Mills heading the MSEN category.
Terry Moynihan and Tom Miller lead the MV45 and MV55 categories, and Mike Duggan has kept his clear lead at the top of the MV65 category.
Natasha White's perfect score across her best five races means she keeps her 3-point lead at the top of the women's table with Louise Myers, Amanda Deavy, Cath Fenn, Sarah McNaney and Ros Myers still leading the other women's categories.
The Road Race Champs tables are compiled from Summer Handicap results, and from results of qualifying races sent in to the web site.
View the tables at Northbrook Road Race Champs 2018
---

The Warwickshire Road Race League is a series of short and middle-distance road races running from Spring through to Autumn. The 2018 series featured 10 races starting with the Massey-Ferguson Tractor 10k in April and finishing with the Rugby 10 mile in October.
At the series close Natasha White was 2nd overall in the women's competition, and won the Senior Female category. The other highest placed Northbrook competitors were Allison Smith (7th FV45), Julie Cozens (5th FV55), Terry Moynihan (4th MV45), Tom Miller (9th MV55) and Tony French (4th MV65). In the team results Northbrook men were placed 7th, and Northbrook women were 5th. In the masters team standings Northbrook men were 5th and Northbrook women were 5th.
Northbrook results
Visit the WRRL web page
WRRL fixtures list 2018
Notice Board
Recent Race Results
Follow the exploits and successes of Club members by checking out these recent
Northbrook
race results
Runners of the Month
Distance Training
Although organised Sunday morning distance sessions are on hold at present you can check out our distance routes for ideas about training on your own.
Club Kit
A range of Club branded running apparel available to members at attractive prices.
Visit the Northbrook Kit Shop to see what's on offer.
Committee Meetings
The committee meets every month to discuss Club matters that affect you.
Read the minutes of the committee meeting on 22 October

The Club Calendar has dates and venues for a selection of some favourite running events in and around the Midlands.
Training
---
Wednesdays at 7.30pm
Mondays at 6pm
Results
---
Latest results
from Northbrook
News Archive
---
Think you may have missed something?
Read about it here.
Archive Search
---
Can't find what you are looking for?
Try searching the archives.