Northbrook Results
For a complete listing visit the Results Index
Send in your results using our Results Upload page
February 2018
Ilmington 10k, Tempo Winter Series Race 5 – 18 February
| | | |
| --- | --- | --- |
| 39 | Tony Forde | 46:35 |
| 69 | Richard Hands | 50:53 |
| 74 | Cath Fenn | 51:23 |
| 126 | Spencer Davies | 57:37 |
Four Northbrookers, one marshal and one supporter headed to Ilmington for the remaining race in this year's winter series. Once more up the hill to claim the coveted gilet and the sausages. For some who were not on form this was a tough day at the office, while Tony had the best run of the series. Though this course is long and tough, when you are on form it has its merits.
It has been a great series again run in all weathers with great company and new friends made, I'm sure we all want a few months to get over it before the urge to run back up the hill raises its head again.
See you next year – Spencer
---
Railway 28-Mile Ultra – 17 February
---
Draycote Water 10k – 11 February
| | | |
| --- | --- | --- |
| | Tony Bowe | 47:53 |
| | Craig Murray | 48:06 |
---
Keyworth Half-Marathon – 11 February
This event was rearranged from December after heavy snowfall. Unfortunately, the new event was a day after a tough cross country league race, but it provided good training on tired legs.
---
Birmingham & District Invitation Cross-Country League Race 4 at Ullwood Park – 10 February
Men's 'A' Team 16th – 604 points, Overall 16th – 2342 points
Mens' 'B' Team 8th – 1013 points, Overall 8th – 4164 points
| | | |
| --- | --- | --- |
| 52 | Stuart Lumsden | 40:07 |
| 77 | Liam Mills | 41:38 |
| 82 | Damian Dear | 41:47 |
| 120 | Steve Turvey | 43:45 |
| 130 | Rory Anderson | 44:17 |
| 143 | Rob Barry | 44:45 |
| 145 | Richard Hodge | 44:51 |
| 165 | Mike Wheeler | 46:15 |
| 171 | Adam Brearley | 46:29 |
| 173 | Damian Pharoah | 46:42 |
| 175 | Jon Seed | 46:49 |
| 184 | Terry Moynihan | 47:27 |
| 188 | Mark Baker | 47:50 |
| 190 | Tommy Dempsey | 48:10 |
| 191 | Neil Smith | 48:15 |
| 194 | Martin Winch | 48:36 |
| 203 | Spencer Davies | 49:20 |
| 210 | Tom Miller | 50:51 |
| 212 | Craig Slyde | 51:15 |
| 219 | Mark Parker | 52:09 |
| 223 | Richard French | 52:31 |
| 228 | John Davies | 53:21 |
| 231 | Martin McChristal | 53:46 |
| 240 | Philippe Rawson | 55:15 |
| 246 | Kevin Erne | 56:24 |
| 247 | Andrew Pitt | 57:19 |
| 249 | Martin McHugh | 57:58 |
| 257 | Fraser Barrett | 69:47 |
---
Midland Womens' Cross-Country League Race 4 at Wolverhampton – 10 February
Division 1
Northbrook Women 15th
Northbrook Women Masters – 9th
| | | |
| --- | --- | --- |
| 75 | Jo Brown | 27:19 |
| 80 | Jill Pittard | 27:36 |
| 90 | Sally Eason | 28:06 |
| 92 | Amy Burdis | 28:17 |
| 112 | Cath Fenn | 30:09 |
| 127 | Claudie Combelas | 30:54 |
| 150 | Julie Cozens | 33:01 |
| 157 | Helen Morris | 34:51 |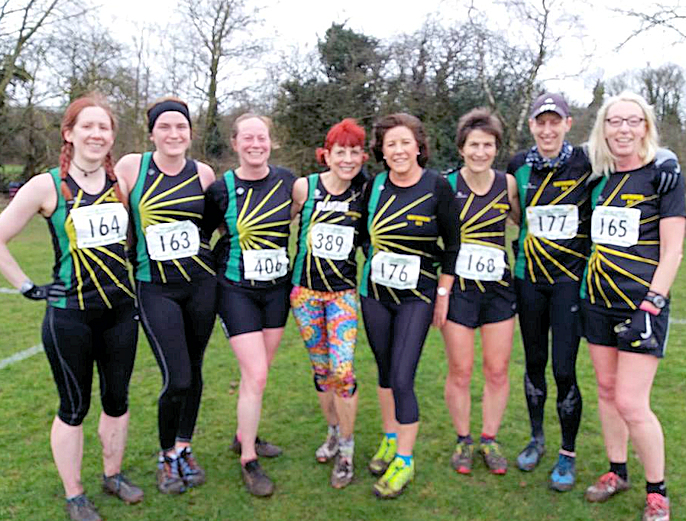 ---
Centurion Grand Prix 5 Mile Race 4 – 4 February
| | | | |
| --- | --- | --- | --- |
| 28 | Spencer Davies | 34:19 | |
| 55 | Amy Burdis | 37:32 | |
| 61 | Mike Duggan | 38:22 | 1st MV75 |
| 71 | Bernard Blundell | 39:16 | |
| 77 | Tony Mackness | 39:41 | |
| 79 | Paul Cozens | 39:47 | |
| 81 | Louise Myers | 39:57 | |
| 92 | Julie Cozens | 41:35 | PB |
| 100 | Jo Arden | 43:17 | |
| 131 | Emily Hughes | 55:40 | |
Ten Northbrookers headed over to a cold and chilly Chelmsley Wood for Race 4 in the Grand Prix series. It was slightly busier this time as it also hosted the Midlands Masters 5 mile handicap. With the temperature being so low you had to run hard to keep warm and wrap up very quickly afterwards.
Great runs all through the field with Julie not only achieving a pb but also getting 3rd in the handicap series with a bottle of bubbly to celebrate. It only got better when Bernard also won a prize in the raffle – Spencer
---
Watford Half-Marathon – 4 February
| | | |
| --- | --- | --- |
| | Rob Cox | 1:42:48 |
| | Sally Eason | 1:42:49 |
Starting and finishing in Cassiobury Park near the town centre the course took us out through some posh suburbs before crossing over the M25 to loop round some traffic clear country lanes before returning on the same route back into town. There were a number of VERY cheeky hills in the course so not one for PB attempts. A very well organised event and far more scenic than you would expect – Rob
---
Enigma Quadzilla – 1 to 4 February
| | | |
| --- | --- | --- |
| Day 1 | Tony Bowe | 3:51:07 |
| Day 2 | Tony Bowe | 3:51:54 |
| Day 3 | Tony Bowe | 3:54:22 |
| Day 4 | Tony Bowe | 3:50:38 |
Day 4 was my 200th Marathon