Updated 22 March 2021 – Event cancelled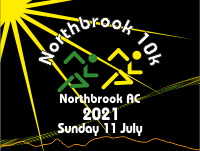 With huge disappointment Northbrook AC took the difficult decision to cancel the 2021 event.
The race committee looked at various possibilities, but were unable to forecast with confidence what the Covid situation might be when the race was to be staged. We had hoped to see a return to organised events, but the safety of participants, their supporters, the race officials and marshals were considered a priority.
Plans are afoot to stage a virtual 10k – look out for news of that on our web sites.
---
The 18th staging of the annual Northbrook 10k road race is planned to take place on Sunday 11 July 2021.
After the forced cancellation of the 2020 race due to the COVID-19 pandemic, the race organisers are looking forward to welcoming club and non-affiliated runners to this popular, quality event.
Full details and up-to-date information are posted on our 10k website.