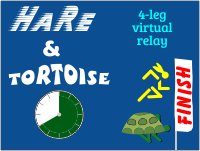 A 40-minute hare and tortoise virtual relay suitable for all abilities.
Pre-entry essential
Teams of 4 randomly drawn
4-leg relay run over 20 days
Run as far as you can in 40-minutes
You have to let us know in advance that you want to take part in this event. Teams of 4 runners will be randomly drawn, 1 runner from each ability associated with our normal training groups, and the challenge is to see how far each team can run in 40 minutes.
Starting from day 1 the first team member has 5 days to report their result, with 2 submissions being allowed.
At the end of the first 5 days the next team member then has 5 days to record their leg result, again 2 submissions are allowed. This continues until all four team members have completed their legs. Teams can decide the order in which they run and each leg
Teams will be ranked accorded to the total distance run by all four legs.
The competition will run from the 12th to the 31st March.
Leg 1 – 12th to 16th March
Leg 2 – 17th to 21st March
Leg 3 – 22nd to 26th March
Leg 4 – 27th to 31st March
Participants will be able to submit their results using the form on the Virtual Events page.