Updated 30 November 2020

A virtual knockout competition, similar to our parkrun cup, but run over 5 miles and with a built-in gradient equalising factor.
This is an individuals competition; entrants were invited to respond to a facebook post or to an email message sent to the club mailing list.
Competition start date: Monday 5 October.
Competition winner: Mike Duggan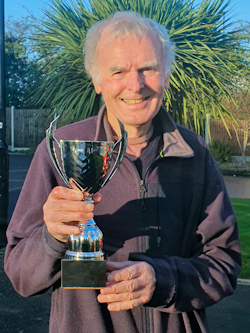 In the Quarter-finals the last 8 served up a real treat with each giving their all.
Quarter-final 1: Mike Duggan v Megan Miller
Megan ran a 5 mile PB improving her WAVA score by 1.5% to 66.87% as Mike took almost a 4% dip on R3 but maintained an 80% + WAVA to take the tie. Mike and Megan met up at the Memorial Park and both ran the same course!
Quarter-final 2: Lisa Bragg v Mark Baker
After a busy and very successful "2020 NOT Series" Lisa ran a slower time as her fitness dipped this week while Mark improved by 1.5% to 75.6% to take QF2. In any other week, this would have been the closest match – Lisa will be back!
Quarter-final 3: Matthew Hathrell v Steven Turvey
This was the closest match with both taking a WAVA dip on Round 3. However Matt's much improved recent form took the tie 70.9% to 66.21%.
Quarter-final 4: Tony Hughes v Jean Noonan
Tony improved by over 3% to 76.64% (birthday boost included!) while Jeannie reflected on a highly successful Equilibrium (65.98%) and bowed out to Tony's good form.
See who made the first cut
See who made the second cut
See the results of Round 3
In the Finals it was a race off between evergreen Mike Duggan and not quite so evergreen Tony Hughes.
Read what the finalists thought of this event
It works like this:
Run a 5 mile route and submit your time via the results upload form on the Virtual Events page.
It can be downhill but we need to know the net elevation (gain minus loss).
e.g on a Garmin device it is the difference between "elevation gain" and "elevation loss", so a gain of 300 and loss of 100 = 200 net gain overall.
For every 44 feet (13.4m) of overall loss we will add 10 secs to your minute mile pace (NB a looped run will be net zero).
Similarly for every 44 feet (13.4m) of overall gain we will subtract 10 secs from your minute mile pace.
Next, we will recalculate a new time based on this Grade Adjusted Pace (GAP).
We will then take this new time and calculate your WAVA score – (a score out of 100 adjusted for your age and gender).
This is a knockout competition over 5/6 rounds, depending on the initial level of interest.
Round 1
Who will make the first cut?
only the top 32/64 will go through
Round 2a
(if more than 64 in R1)
A second cut to decide the knockout 32 singles matches
Round 2b
(if fewer than 64 in R1)
A second cut to decide the knockout 16 singles matches
Quarter-finals
Last 8
Semi-finals
Last 4
Finals
Last 2

And these are the rules:
2 weeks allowed for each round
A maximum of 2 submissions allowed per round
All run times have an "expiry" date of 2 days, after that they are deemed to be beyond their "best before date"
Run times are to be entered as race/elapsed time
Run times will be made public after passing rule checks
An example of how the GAP is calculated
| Male aged 57 | An elevation loss | Looped run net zero | An elevation gain |
| --- | --- | --- | --- |
| Time | 00:40:00 | 00:40:00 | 00:40:00 |
| Pace | 00:08:00 | 00:08:00 | 00:08:00 |
| Net elevation | -200 | 0 | 200 |
| Elevation change/mile | -40 | 0 | 40 |
| GAP adjust (secs) | -9:09 | 0:00 | 9:09 |
| GAP pace | 00:08:09 | 00:08:00 | 00:07:51 |
| New time | 00:40:45 | 00:40:00 | 00:39:15 |
| WAVA (male aged 57) | 65.48% | 66.16% | 67.42% |
Comments about the event from the two finalists
Tony Hughes
I've really enjoyed the Equilibrium 5, nice to have an innovative good-for-age event that anyone has a chance to win. I liked having the opportunity to run twice as this makes for interesting tactics regarding when to run. I tried to run once each round but never on Saturday night so as to give my opponents a chance to run again! The website and score chart were excellent, someone's got some great IT skills. My only gripe was the change of rules from 2 weeks to 1 week between rounds. Overall though, a brilliant event, many thanks to all involved. Just considering having another 'final' run before Sunday.
Best wishes to everyone and their families
Tony
Mick Duggan
Hi all you Northbrook team members. I hope that you and all your loved ones are staying fit, safe and healthy. As a finalist in the Equilibrium 5 Miler, Kevin has asked me to submit a few tactics used, in reaching this stage. The achievement, in my case, is predominantly due to the very well organised group training runs. These sessions contribute well to establishing social interaction and camaraderie opportunities, which help in some way to alleviate the fatigue endured, following the energy sapping reps. Regarding these sessions, and the virtual quizzes a huge vote of thanks is due to Spencer, Cath, Rob, Rich, Corinna, Jill, Dawn, Sally, Tom, Kevin and Roger, for their enterprising input, in helping us all to stay in touch, albeit in most instances, virtually, during these unprecedented times.
All of the above events, are of course meticulously and conscientiously overseen by club chairman, Bob, whose weekly newsletter consistently reflect the family and supportive culture embedded in the club.
I understand that the Equilibrium 5 may be an annual event; that's good, as it suits the more senior athletes (none as senior/old as me) by arranging a more 'level playing field' ie. similar to the Parkrun age related time grading. It was pleasing to see so many of the club's 'master' athletes reaching the closing stages of the competition, and and a special word of praise to those who achieved PBs, eg. Megan.
Regarding tactics, these are mine; enjoy the long 'effortless' runs, ensure appropriate recovery following efforts and endeavour to implement our coaches' instructions during group training.
Kind regards & magic training.
Mick