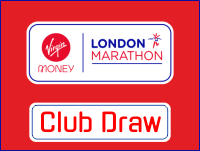 The Club draw for its allocation of two guaranteed entries to the October 2021 Virgin London Marathon included 21 eligible club members, and the winners were Mark Parker and Pia Singh. The reserve is Joe Kelly.
Unlucky were Richard Arnold, Kevin Coughlan, Megan Miller, Tom Mitchell, Liam Mills, Tim Hughes, Will Carr, Fern Kenny, David Giles, Caroline Parkinson, Julie Liggett, Kelly Parker, Lee Miller, Pete Marshall, Tracey Cox, Dave Mills,Emma Vardy and Elle Townsend.
The event is scheduled to take place on 3 October 2021.
The club will not have any places for the 2022 event, as the 2020 club draw winners deferred their entries to 2022 due to Covid (Richard Hands and Catherine Shepherd).