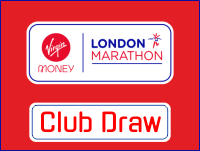 The Club draw for its allocation of two guaranteed entries to the 2020 Virgin London Marathon took place at the Jaguar Sports & Social Club on 20 November and the winners were Richard Hands and Catherine Shepherd. The reserve is James Lacey.
There were 17 in the draw who met the eligibility criteria and unlucky were Tony Bowe, Spencer Davies, Sarah Duffy, Sean Duffy, David Giles, Julie Liggett, Andy McConville, Charlotte Mills, Liam Mills, Mark Parker, Sara Phipps, Adrian Powell, Jonathan Seed and Pia Singh.
The event is scheduled to take place on 4 October 2020.