My Mate Ingle Corbett – 1948 – 2014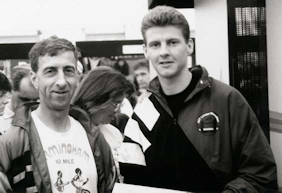 Known for his determination, stubbornness, cussedness, and eating. A man who loved his sports, his fellow athletes, his environment, his social life with the people he ran with, as well as beer, one-armed bandits and steam trains. He looked after his mates, mostly by telling rubbish jokes and stories about meals he had eaten, sometimes twice!
He showed us videos of comedians such as Billy Connolly, Jethro, and my favourite, Mike Harding. He also tortured us for hours with steam train videos.
My mate Ingle died with his family by his side after they had looked after him and helped him cope with his awful illness; to them I send my respects.
And I know you (Ingle) must be either running up some great fell, or drinking a pint of Lancaster bomber, because that's your kind of heaven.
Shaun