Forthcoming events
Forthcoming events
Tap/click an item for more info
Dec 4
Birmingham League/Midland Women's League Cross-Country Race 2
Jan 15
Birmingham League/Midland Women's League Cross-Country Race 3
Feb 19
Birmingham League/Midland Women's League Cross-Country Race 4

If you arrived here because you are thinking about joining a running club then you have come to the right place.
Why not come along to our Wednesday night training sessions and try out our friendly welcoming Club.

Take out membership and enjoy the experience of Club running. Not sure if you want to join up - then try before you buy. Run with us as a guest for a few weeks before signing.
See the Membership Page for more info.
---
News Roundup

It's that time of year again when membership renewal falls due. Continue your enjoyment of being a member of the Northbrook running community by renewing your club membership now. You'll get the benefits of UKA affiliation, structured training sessions led by qualified leaders, reduced entry fees to races, Northbrook-sponsored team entries, and so on.
Renewal is easy – see Renewal Form for details.
Renewal fees have been frozen again at £28 full rate, £20 concessions.
Renew in person on Club nights, or send the Renewal Form to the Membership Secretary.
Renew now to avoid embarrassment at upcoming races.
---
Race 4 on 10 February at Ullwood Park, Cheltenham marked a disappointing end to the 2017/2018 Birmingham League season for Northbrook men. Finishing in 16th place on the day and with an overall 16th place, just one place from the bottom, means it's down to Division 3 next season. The men's B team finished well up the rankings with an 8th place on the day and an 8th place overall.
Turnout from Northbrook throughout the season has been good and consistent, due in no small part to the efforts of motivational Team Captain Spencer.
A similar fate befell Northbrook women's team in their final Divison 1 race of the Midland Women's Cross-Country League at Aldersley Stadium, Wolverhampton on the same day. Finishing in 15th position out of 15 teams they too are headed down, to Division 2 next season. In the Masters rankings Northbrook women finished well up in 9th place.
Overall then, not the best end to the league season but, as Arnie might have said "We'll be back".
Northbrook results ...
---
Hearsall Golf Club was the venue for the annual awards presentation on Saturday 13 January, attended by 100 or so members and guests.
Mark Holmes, Finance Director of Bruker, the main sponsor of the club's 10k race, was guest of honour and presented the prizes. Club member Chris Archer's band Re:offenders provided live music.
Introducing the awards presentation Club Chairman Bob Adams congratulated the 52 awards winners on their achievements, mentioning some of the very impressive performances that had been recorded during the year.


In the voted awards, Spencer Davies (Club Person of the Year) and Damian Pharoah (Most Improved Runner) attracted most votes.
See the award winners
View the pics ...
---

[waiting name="Northbrook 10k"]
Northbrook AC has teamed up with Coventry Cyrenians as the major charity beneficiary of the annual Northbrook 10k race in 2018. The 16th staging of the club's increasingly popular race is on Sunday 8 July. Bruker, JLN Plumbing and Heating and Tony's Home Improvements are our featured sponsors.
Visit our new 10k website
---
Flushed with his success in the Northbrook parkrun cup competition Mark ran 18 miles in the rain from home to the Bedworth parkrun on Saturday 28 April where Northbrook took on most of the officiating roles. Not satisfied with that effort he then ran the course pushing his two children in their double buggy. Before the race Bob Adams introduced the Club to the assembled runners in what was for him an unusually short speech. The race was won by Andy Green of Team East Haddon. Northbrook's Damian Dear was second.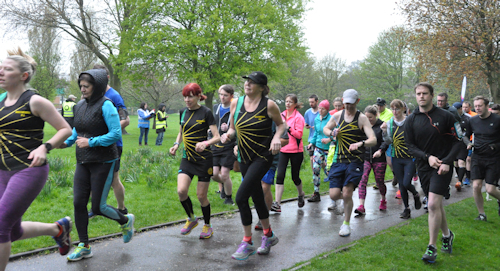 ---
The Massey Ferguson Tractor 10k on 1 April is open for entries. This is the first race in the 2018 WRRL.
The Kenilworth Half-Marathon on 2 September is the penultimate 2018 WRRL race and is offering an Early Bird discount entry until the end of February.
Visit the Kenilworth Half-Marathon website. Download the flyer ..
---

Looking to improve your 5k time? Then take a look at our 5k Improvement Programme - a 10-week training plan designed and delivered by our own coaches and leaders to improve your pace and technique. It's open to all and includes an invitation to join in our Summer Handicap series.
Twice-weekly sessions start on Monday 29 January
---

The Club draw for its allocation of two guaranteed entries to the 2018 Virgin London Marathon took place at the Jaguar Sports & Social Club on 6 December and the winners were Tommy Dempsey and Damian Pharoah. The reserve is Christopher Perkins. There were 12 in the draw and unlucky were Mark Parker, David Giles, Linda Richards, Julie Liggett, Richard Hands, Liam Mills, Craig McNaney, Spencer Davies and Ian Paterson.
---

Just a month into the championship year but long enough for some to gain sufficent points to make an appearance on the Road Race Championship tables.
Spencer Davies has taken an early lead with Liam Mills, Richard Hands, Tony Mackness, Steve Turvey and Mike Duggan leading their categories.
Sally Eason sits atop the women's table with Katy Davies, Anne Hughes and Emily Hughes as category leaders.
The Road Race Champs tables are compiled from Summer Handicap results, and from results of qualifying races sent in to the web site.
Northbrook Road Race Champs 2018
---

The Warwickshire Road Race League is a series of short and middle-distance road races running from Spring through to Autumn.
The 2017 series featured 11 races starting with the Massey-Ferguson Tractor 10k in April and finishing with the Rugby 10 mile in September.
With all 11 races completed Steve Turvey is the highest placed Northbrook runner with a 7th place in the MV35 category. Highest placed Northbrook woman is Louise Myers with a 10th position in the FSEN category.
In the team results Northbrook women are placed 5th, Northbrook men are also 5th.
Visit the WRRL Facebook page.
Go to Northbrook WRRL web page for Northbrook standings.
WRRL fixtures list 2018
Notice Board
Recent Race Results
Follow the exploits and successes of Club members by checking out these recent
Northbrook
race results
Runners of the Month
December
Liam Mills
Cross-country league PB, then knocked 5 mins off half-marathon PB next day.
Jill Pittard
Fell at Coombe 8, then ran cross-country at Stratford.
Distance Training
There is a variety of Sunday morning distance routes leaving from the Jag Club at 9am on Sundays. We have started our marathon training with the London Marathon as the target event. The routes and distances are designed to get you in perfect shape for your race day.
Look out for Clive's club mailings or visit Clive's page.
Check out Clive's distance routes.
Club Kit
A range of Club branded running apparel available to members at attractive prices.
Visit the Northbrook Kit Shop to see what's on offer.
Committee Meetings
The committee meets every month to discuss Club matters that affect you.
Read the minutes of the committee meeting on 8 January

The Club Calendar has dates and venues for a selection of some favourite running events in and around the Midlands.
Coventry Parkrun
Weekly Free 5km Timed Run.
It's free but you must register in advance - go to Coventry parkrun web site
Training
---
Wednesdays at 7.30pm
Mondays at 6pm
Sundays at 9am
Results
---
Latest results
from Northbrook
News Archive
---
Think you may have missed something?
Read about it here.
Archive Search
---
Can't find what you are looking for?
Try searching the archives.