If you arrived here because you are thinking about joining a running club then you have come to the right place. Why not come along to our Wednesday night training sessions and try out our friendly welcoming Club. Take out membership and enjoy the experience of Club running. Not sure if you want to join up - then try before you buy. Run with us as a guest for a few weeks before signing. See the Members' Page for more info.
The thirteenth staging of this hugely popular fixture in the race calendar attracted a field of over 540 entries.
Incorporating both the seventh race in the Warwickshire Road Race League and the Midland Counties 10k Road Championship the event is a major attraction for local athletes.
The race was won by Martin Whitehouse of Notts AC in 32m 43s, who also took the Midland Counties 10k Champs men's prize. First lady home was Stratford AC's Zoe Chandler in 36m 30s, taking the Midland Counties 10k Champs ladies title as well.
Coventry Godiva Harriers won both the Men's and Ladies' Club team prizes.
Northbrook's highest placed finisher was Stuart Lumsden in 25th.
The race organisers again chose to work with the children's charity Zoë's Place as the main beneficiary. The race also supported the Allesley Festival and Allesley Scouts.

Results ...
---

Training for Distance?
Sunday morning training sessions targeted towards the half and full marathon distances start from the Jag Club at 9am on Sundays. With an eye on events such as the Kenilworth and Birmingham half-marathons and the Nottingham and Abingdon marathons later this year, the weekly training plan will take in a variety of routes, with distances designed to get you in perfect shape for your race day.
See training plan
---

The Club's Summer Handicap Series comprises six races, staged on the first Wednesday of each month from April through to September, and is a hugely popular fixture both for Club regulars and for guests. In Race 5 on Wednesday 5 August first home was Julie Cozens gaining maximum points for the women. First Northbrook man home and coming in 4th overall was Rich Cawley. After five races Clare Weir keeps her narrow lead at the top of the ladies' table, and Brian Hewetson is sitting comfortably with a sizeable lead in the men's table.

The final race of the 2015 series is on 2 September.
More details Results after race 5
---
Wednesday 24 June
A record entry of 67 runners in the club's annual 3-leg relay race on country lanes, with teams made up of runners of differing abilities. Joe Kelly was first back on leg 1, Craig McNaney led home leg 2, and Amanda Deavy led home the winning team on leg 3.
Results and pics ...
---
A Club night event with a challenge
Nearly fifty Northbrookers took part in the annual Race the Train off-road event from Hampton in Arden to Tile Hill. Spurred into growth by recent warm, moist weather the lush undergrowth proved a challenge at times, not to mention the plentiful, brambles, nettles and bountiful oilseed rape that left their marks on not a few shins. After the run everyone retired to the Bell Inn for some liqid refreshment.
---
Club kit
A range of Club branded running apparel is now available to purchase at attractive prices.
Take a look at the kit page to see what's on offer.
Committee Meetings
The committee meets every month to discuss Club matters and things that affect you. Read the minutes of the committee meeting on 20 July.
Runners of the Month

June

Kevin Coughlan

Tara Lambert

Previous Runners of the Month
Training Schedules

Wednesday night training schedules for the next few weeks
Northbrook training sessions

Club diary

Current Northbrook club diary of club running events

Coventry Parkrun
Weekly Free 5km Timed Run

It's free but you must register in advance - go to Coventry parkrun web site
---
If you haven't yet come across this web site you might like to check it out. There's lots of useful stuff there, all beautifully presented, and there's a delightful animated video that's both amusing and inspiring.
Northbrook AC has been named as Club of the Year by the organisers of the 2015 Coventry Half-Marathon in a competiton open to all local running clubs. Clubs were invited to submit details of their activities and the support they could offer to the half-marathon which takes place on 1 March..
A spokesperson for the organisers GO2 said: "We were really impressed with your application and think you will be an excellent addition to the Coventry Half Marathon".
Mark Baker, Club Secretary said: "Northbrook Athletic Club is excited to be selected as the Decathlon Coventry's Half Marathon Club of the Year. The friendly atmosphere at Northbrook encourages runners of all abilities to reach their goal."
Northbrook's welcoming atmosphere and the training plans specially designed for the Myton Hospice runners contributions to the Club's success.
In return, to show our support, we agreed to provide at least 10 volunteers on the day to help with marshalling, drink stations, etc., and to provide pacers for various groups.

More details on the Coventry's Half-Marathon website.
Coventry Half-Marathon Northbrook results
---
Northbrook Eggheads in Sphinx Quiz Success
Guests Northbrook took the winners' prize by a comfortable margin at the Sphinx AC quiz night on 19 June. The winning team of Steve Turvey, Richard Hands, Richard Cawley, Spencer Davies and Tracy Cox were rewarded with bottles of wine and chocolates. Joint 3rd placed Damian Pharoah, Mark Baker, Corinna O'Connor, Tom Miller and Terry Moynihan just missed a podium prize on a tie-break - guessing the price of 1st and 2nd class stamps incorrectly, despite scoring zero on an earlier 'risk round', where one wrong answer wiped out the score for that round.
Thanks to Sphinx for hosting an enjoyable event in which 18 teams took part.
---

A Corker of a Run for Deavy
Amanda Deavy's run of success continues with another superb performance over the half-marathon distance, running in the Cork, Ireland half-marathon on 1 June.
Invited to take part by the race organisers in conjunction with Coventry City Council as a result of her leading lady finish at the 2015 Coventry Half-Marathon, Amanda repaid the honour by taking the 2nd lady prize in a time of 1:24:47.
Co-sponsored for the race by Northbrook AC, Amanda said "I am a very happy bunny, despite the wet and windy conditions". Travelling companion Nobby Northbrook was equally pleased.
---
Ladies Marathon Club Record Smashed - Again
Running a superb 3:01:15 Ladies Club Captain Amanda Deavy set a new ladies' club record for the distance at the Manchester Marathon on 19 April. Already club record holder for the distance (set at the Abingdon marathon in October 2014) Amanda knocked more than 7 minutes off her previous best time, and finished 4th LV35.
See all Club records
---
Grand Prix Laurels for Duggan
Mick Duggan took the MV70 winner's prize in the East Midlands Grand Prix Series, with four firsts out five races. Leading the F35 category going into the final race at Milton Keynes on 30 June, Jill Pittard ended the series with a second place prize.
Details of the series Northbrook results after Race 8
---
Northbrook Ladies Claimed 2nd Place
The Cotswold Hilly 100 is a 100 mile road relay race that is divided into 10 legs each of approx 10 miles. The race starts at the American Fountain, Market Square in Stratford upon Avon and finishes at the Stratford Sports Club and follows a route of mainly minor roads that meanders through the Cotswolds. As the name suggests there are a number of 'undulations' throughout the route. Teams start at either 5am, 6am or 7am depending on their predicted overall time. Northbrook entered 5 teams. Results
---
Northbrook Helps Myton to Success in Coventry Half-Marathon
Myton Hospice entrants to the Coventry Half-Marathon appreciated the invitation to join in the Northbrook Sunday morning training sessions. Their improved running enhanced their half-marathon experience.
---
£2000 Gift to Zoë's Place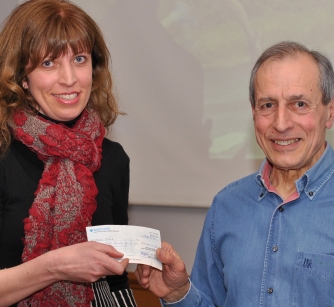 The Northbrook 10k Race Committee selected Zoë's Place as the major fundraising beneficiary of the 2014 event. At the Annual Northbrook Awards evening on 25th January, Race Director Tony French presented a cheque for £2000 to Zoë's Place Corporate Fundraiser Lyn Armstrong.
Since its inception 12 years ago, the 10k road race has donated nearly £13000 to local charities.
Zoë's Place will again be the main beneficiary of the 2015 event, taking place on Sunday 12 July. See more details.
---

Serial Marathoner Gets Century
The Club's serial Marathon runner Tony Bowe claimed his 100th completion of the distance during the 4-day epic Marathon event at Milton Keynes on 7 February. Tony is now an expert in the topography of Caldecotte Lake, a piece of water he circumnavigated 28 times during the event.
More ..
---
Northbrook Road Race Champs
The Road Race tables are compiled from Summer Handicap results, and from results of qualifying races sent in to the web site. At the half-way stage Amanda Deavy has taken over the top of the ladies' table, with Martin Winch edging ahead at the top of the men's listing. Rachel Meredith leads the senior ladies, with Amanda Deavy and Sarah McNaney heading the ladies' vets tables. Mike Wheeler and Peter Fellows head up the vets' table for the men..
Northbrook Road Race Champs 2015
---
Warwickshire Road Race League
A series of 11 middle-distance road races starting with the Massey Easter 5 mile in April and finishing with the Rugby 10 mile in September.
After nine races Scott Shepherd is the highest placed Northbrook athlete with a fourth place in the senior men's table. In the team placings, Northbrook Men are 5th; Northbrook Ladies are placed 7th.
Read more ...
Go to Northbrook WRRL web page for Northbrook standings.
Get the latest issue
of the WCAA Newsletter