If you arrived here because you are thinking about joining a running club then you have come to the right place. Why not come along to our Wednesday night training sessions and try out our friendly welcoming Club. Take out membership and enjoy the experience of Club running. Not sure if you want to join up - then try before you buy. Run with us as a guest for a few weeks before signing. See the Members' Page for more info.
The countdown is on for the thirteenth staging of this hugely popular fixture in the race calendar.
Incorporating both the seventh race in the Warwickshire Road Race League and the Midland Counties 10k Road Championship the event will be a major attraction for local athletes. New this year is a Corporate

Team prize for non-club runners.
The race organisers have again chosen to work with the children's charity Zoë's Place as the main beneficiary. The race also supports the Allesley Festival and Allesley Scouts.
Online and postal entries accepted.

More details ...
---

New Wednesday Training Session
A new group session has been added to the Wednesday night training schedule. Aimed at those wanting to add some distance training the group will take in runs of between 7 and 9 miles, with fartleks, snake runs and the like thrown in to offer a good middle distance session - perfect for half & marathon training. Pace will be 8-9 minute miling (ish), and sets will be organised so that everyone benefits and no-one gets left behind.
Weekly sessions will be posted on the training page.
---

Training for Distance?
Sunday morning training sessions targeted towards the half and full marathon distances start from the Jag Club at 9am on Sundays. With an eye on events such as the Kenilworth and Birmingham half-marathons and the Nottingham and Abingdon marathons later this year, the weekly training plan will take in a variety of routes, with distances designed to get you in perfect shape for your race day.
See training plan
---

The Club's Summer Handicap Series comprises six races, staged on the first Wednesday of each month from April through to September, and is a hugely popular fixture both for Club regulars and for guests. Race 2 on Wednesday 6 May saw a another good turnout of 66 members and guests. First lady home was Clare Arden, with newcomer John Smith gaining maximum points for the men. After two races Clare Arden moves to the top of the ladies' table, whilst Tony Bowe retains his position 5 points clear at the top of the men's table.
Race 3 is on 3 June.
More details Results of race 2
---
Wednesday 24 June
A Club night with a difference. A 3-leg relay race on country lanes, with teams made up of runners of differing abilities. Expert team selection and timekeeping normally results in an exciting finish. Prizes too.
More details ...
---
A Club night event with a challenge
Travel by train to the start point and then race your clubmates back to the finish. The challenge is to negotiate the mainly off-road route without falling or getting lost.
Meet at Tile Hill Station at around 7pm in time to catch the Centro 7.15pm-ish train to Hampton in Arden. Drinks in the Bell Inn afterwards.
More details on the Race the Train page
---
Club kit
A range of Club branded running apparel is now available to purchase at attractive prices.
Take a look at the kit page to see what's on offer.
---


For Northbrook men the final race of this season's Birmingham Cross-Country League would decide the outcome - promotion to Division 2 or remaining in Division 3. Going into Race 4 at Wyken Croft on 7 February Northbrook were in 4th place and 85 points adrift of third-placed Massey Ferguson. Despite strong performances by the leading counters, including spirited sprint finishes by Scott Shepherd and Club Coach John Wilson, the final result saw Northbrook's hopes of promotion dashed as the competition on the day proved just too strong.
Northbrook men's A team finished 4th on the day, and in 4th place overall. The B team finished in 2nd place on the day, and held on to 2nd place overall. A good team effort by all throughout the season.
In the women's race at Wolverhampton, Northbrook ladies finished in 6th place overall, with Northbrook Ladies Masters finishing in 2nd place overall.The Northbrook ladies' team was the highest placed Coventry club.
Northbrook results ...
---
Committee Meetings
The committee meets every month to discuss Club matters and things that affect you. Read the minutes of the committee meeting on 20 April.
Runners of the Month
April
Martin Winch for sub-3 hour marathon at Manchester.
Amy Burdis for several recent PB's.
Training Schedules

Wednesday night training schedules for the next few weeks
Northbrook training sessions

Club diary

Current Northbrook club diary of club running events
Northbrook AC has been named as Club of the Year by the organisers of the 2015 Coventry Half-Marathon in a competiton open to all local running clubs. Clubs were invited to submit details of their activities and the support they could offer to the half-marathon which takes place on 1 March..
A spokesperson for the organisers GO2 said: "We were really impressed with your application and think you will be an excellent addition to the Coventry Half Marathon".
Mark Baker, Club Secretary said: "Northbrook Athletic Club is excited to be selected as the Decathlon Coventry's Half Marathon Club of the Year. The friendly atmosphere at Northbrook encourages runners of all abilities to reach their goal."
Northbrook's welcoming atmosphere and the training plans specially designed for the Myton Hospice runners contributions to the Club's success.
In return, to show our support, we agreed to provide at least 10 volunteers on the day to help with marshalling, drink stations, etc., and to provide pacers for various groups.

More details on the Coventry's Half-Marathon website.
Coventry Half-Marathon Northbrook results
---

Ladies Marathon Club Record Smashed - Again
Running a superb 3:01:15 Ladies Club Captain Amanda Deavy set a new ladies' club record for the distance at the Manchester Marathon on 19 April. Already club record holder for the distance (set at the Abingdon marathon in October 2014) Amanda knocked more than 7 minutes off her previous best time, and finished 4th LV35.
See all Club records
---
Northbrook Ladies Claimed 2nd Place
The Cotswold Hilly 100 is a 100 mile road relay race that is divided into 10 legs each of approx 10 miles. The race starts at the American Fountain, Market Square in Stratford upon Avon and finishes at the Stratford Sports Club and follows a route of mainly minor roads that meanders through the Cotswolds. As the name suggests there are a number of 'undulations' throughout the route. Teams start at either 5am, 6am or 7am depending on their predicted overall time. Northbrook entered 5 teams. Results
---
Northbrook Helps Myton to Success in Coventry Half-Marathon
Myton Hospice entrants to the Coventry Half-Marathon appreciated the invitation to join in the Northbrook Sunday morning training sessions. Their improved running enhanced their half-marathon experience.
---
£2000 Gift to Zoë's Place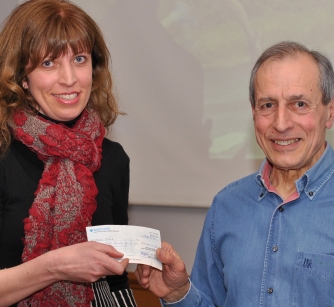 The Northbrook 10k Race Committee selected Zoë's Place as the major fundraising beneficiary of the 2014 event. At the Annual Northbrook Awards evening on 25th January, Race Director Tony French presented a cheque for £2000 to Zoë's Place Corporate Fundraiser Lyn Armstrong.
Since its inception 12 years ago, the 10k road race has donated nearly £13000 to local charities.
Zoë's Place will again be the main beneficiary of the 2015 event, taking place on Sunday 12 July. See more details.
---

Serial Marathoner Gets Century
The Club's serial Marathon runner Tony Bowe claimed his 100th completion of the distance during the 4-day epic Marathon event at Milton Keynes on 7 February. Tony is now an expert in the topography of Caldecotte Lake, a piece of water he circumnavigated 28 times during the event.
More ..
---
Northbrook Road Race Champs
The Road Race tables are compiled from Summer Handicap results, and from results of qualifying races sent in to the web site. Two weeks from the end of the year and Stuart Lumsden is keeping his lead at the top of the men's table, with Amanda Deavy holding on at the top of the ladies' listing. John Wilson still leads the MV40 table, but Pete Fellows has put himself comfortably in the lead at the top of the MV50 table. Amanda Deavy and Sarah McNaney both hold on to their places at the top of the ladies' vets tables.
Northbrook Road Race Champs 2014
---
Warwickshire Road Race League
A series of 10 middle-distance road races starting with the Two Castles 10k in June and finishing with the Rugby 10 mile in October.
In the 2014 series, Northbrook's Amanda Deavy finished 1st LV35, Peter Fellows 3rd MV55 and Anne Hughes 2nd LV55.
In the team placings, Northbrook Ladies finished 6th; Northbrook Men in 7th.
Read more ...
Go to Northbrook WRRL web page for Northbrook standings.
Get the latest issue
of the WCAA Newsletter

Coventry Parkrun
Weekly Free 5km Timed Run

It's free but you must register in advance - go to Coventry parkrun web site
---
If you haven't yet come across this web site you might like to check it out. There's lots of useful stuff there, all beautifully presented, and there's a delightful animated video that's both amusing and inspiring.